I am Rehema Sulle from Haydom, Tanzania. It is my goal to be a good midwife and help women have safe deliveries. Thanks for visiting my page!
Personal information
Name: Rehema Sulle
Date of Birth: 1992
Country: United Republic of Tanzania
Study: Midwifery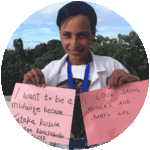 Study information
Study: Midwifery
University: Herbert Kairuki University.
Startdate: in September 2015
Expected graduation: 2019.
Costs per year for iSTEPup: $2400.
Buddy
Jonas Rosenstok, member of the advisory board of the iSTEPup Foundation
Coordinating the support for Rehema's study is what convinced me that the iSTEPup model works (which is also why I agreed to join the advisory board). It's been a true pleasure linking Rehema to several sponsors who have enabled her to realise her ambitions. She's a clearcut example of the potential that exists in rural Tanzania but that doesn't have the means to take the first step towards realising their ambitions, i.e. getting the required education.