Personal information
Name: Nelson Lwomile
Date of Birth: 02-05-1997
Country: Tanzania
Study: Clinical Officer [level: Diploma – there after planning to study Medicine]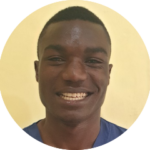 Study information
Study: Clinical Officer  [level: Diploma. Planning to study Medicine there after]
University: Sengerema Health Training Institute
Location: Sengerema, Tanzania
Start date: 2017-2018
Expected graduation: 2022-2023 [planning to study medicine there after]
Costs per year for iSTEPup: 1950000 Tanzanian Shilling [~€781,-]  (source: click here)
Why I need the iSTEPup Foundation 
My name is Nelson Novart Lwomile a third year clinical officer student at Sengerema health training institute, am current pursing a third year diploma in clinical medicine and I plan to follow up with a 5 years bachelor in medicine after I graduate.
I have always been dreaming of becoming a doctor and give back to my community and I believe that your contribution would get me miles ahead to reaching my goals.
I am applying for this sponsorship in order to get the financial support to any my studies to make a completion of my studies ,my parents have passed away due to a car accident. I am an orphan, living with my young brother and sister. We have no support from other family member like aunt or uncles.
My goals are to become a great doctor so as I can work with my community in promotion of health. My great interest is based on improvement of community's health through provision of better health services and increase people's awareness and control of their health and to inspire youth to take science subjects so as to get better medical professionals.
Buddy 
Rian Jager is a Global Health doctor, and has been working in Sengerema Hospital, Tanzania since April 2018. She works with clinical officer students, medical students and nursing students often, and likes teaching them.
Nelson came to me after a volleyball practice to ask me to help him. After being orphaned 10 years ago he is the only caretaker for his 3 younger brothers and his young sister. On top of that, he was funding his studies for clinical medicine by playing football matches. Unfortunately, this was not sufficient to keep studying and finishing his last year became impossible. When I saw his dedication in the hospital, especially with small children, I decided it would be a waste of talent if he would not be able to continue studying to become a clinical officer and further pursuing his dream of becoming a medical doctor here in Tanzania. Thankfully, iStepup is helping him finish his third year!