Personal information
Name: Caroline Anyait
Age: 25
Country: Uganda
Study: Medicine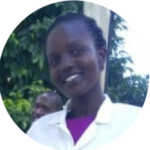 Study information
Study: Bachelor of Medicine and Bachelor of Surger
University: Gulu University
Location: Gulu, Uganda
Start date: August 2018
Expected graduation: academic year 2022-2023.
Costs per year for iSTEPup: 2.688.000 Ugandan Shilling [€660]
Costs per semester for iSTEPup: 1.344.000 Ugandan Shilling [€330]

Buddy 
Eva wouda, medical doctor in training for global health and tropical medicine (AIGT)
During my internship in Kumi Hospital Uganda I met Anyait Caroline. I noticed right away she was a driven, dedicated woman. She was working in the Outpatient Department, seeing dozens of patients per day and providing them with care. We became close friends, likely because we were interested in the same things (for example paediatrics and infectious diseases), and were both ambitious to improve health care in this low resource setting. We followed the ETAT course together, and another training on prevention and treatment of tuberculosis.
Me as a fifth-year Dutch medical student, her as a local health worker. We learned a lot from each other and in all these interactive moments I noticed she had a way of thinking and a special kind of motivation that made me tell her she had to try for Medicine. She told me that this was too expensive for her, but tried anyway. Now, a little over two years later she managed to get into Gulu university.
I am keen on helping her because I feel this is the kind of student that will return and improve healthcare in the region she was born.
As resident in Global health and Tropical medicine, I like to think in terms of innovation and improving health care, from inside out.
Carol is a strong and confident woman, with a lot of potential. She will not only be of great value to Kumi hospital and its patients, but she will also be a great example for future generations, boys and girls, to improve Ugandan health care.
Thanks a lot for your support!