Personal information
Name: Leonard Kamwendo
Date of Birth: 18-02-2000
Country: Malawi
Study: Nursing [level: diploma]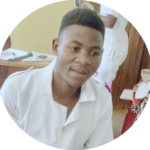 Why I need the iSTEPup Foundation 
The reason that I need this scholarship is because I come from a poor family. We are with seven in number supported by my mother who is just a local farmer. My mother struggles to provide us in terms of food as well as school fees. My fellow relatives are in secondary schools (three brothers and one sister) and one young brother is in primary school. This makes pressure to my mother who fails to provide us with school fees. Without the support of iSTEPuo Foundation I won't be able to finish my diploma  in nursing. I am very passionate about being a nurse because it was my desire since I was young to help people who are in need of care like sick people. I would also like to continue my education to degree level and even masters degree which is the highest grade of the program in the country.
Buddy 
Gea Ballering, medical doctor for global health and tropical medicine (AIGT).
My name is Gea Ballering, I am working as a doctor at St Luke's Hospital in Malawi and I am Leonard's buddy for I Step Up. I have met Leonard through my work as he is a student at the St Luke's College of Nursing. He is an eager and enthusiastic nursing student who has a lot to offer. He comes from a poor family with many sisters and brothers so he cannot afford his study fees. That is why I signed him up for I step Up. Hopefully he can now realize his dreams by becoming a nurse.