Personal information
Name: Joan Nairuba
Date of Birth: 26-10-2000
Country: Uganda
Study: Midwife [level: Certificate]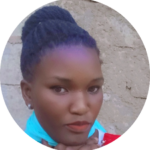 Why I need the iSTEPup Foundation 
I come from a small village called Bukyatifu. I have finished my o levels with good results. Last year I got my admission letter for Mt Elgon school of Nursing and Midwifery. However, I would never have been able to start my studies without the help of iSTEPup. I lost both my parents last year and the covid-19 pandemic has had a big impact on us. I now live with my brother who is unable to pay for my studies.
I have always wanted to be a  midwife. I want to assist women in my area who are pregnant and I want to help them during birthgiving. I think it is important that newborns get a safe start in life. Being a midwife will aloow my to improve healthcare for women in my area in the future.
I am grateful for the support given by iSTEPup to make my dreams come true and help me spread my wings and soar high.
Buddy 
David Kowomera, bestuurslid Egoli Africa
I am David Kawomera, aged 31 years, Ugandan by nationality, from Kamuli district in Eastern Uganda. I am a teacher and I teach math and sports science .
My personal interest is to see that all people have acquired education and can do productive work in the communities and that we get developed communities through education. I like working and mostly doing some voluntary work for the good of my community and the entire country .
I am managing director of Egoli Africa. I monitor the entire activities in Egoli Africa. I have worked in this organisation for 10 years now. At first I was the coordinator of the sponsorship program run by Egoli Africa.
As an organization we have been helping children to study and these two
(Marion and Joan ) visited our office in Bukyatifu Kisozi subcounty when they wanted to continue with studies and wanted assistance. I did home visits to their homes and I got information that these girls really needed help to make their dream goal come true.
We got in touch with iSTEPup to make these girls achieve their dream goal of serving the communities where they come from and to the whole country.
Regards, David Kawomera