Personal information
Name: Abdul Ibrahim Kamara
Date of Birth: 19-06-1993
Country: Sierra Leone
Study: Nursing [level: Diploma]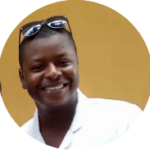 Study information
Study: Diploma in Nursing (SRN)
University: Tonkolili District College of Health Science
Location: Masanga Village Tonkolili District Sierra Leone
Start date: February 2019
Expected graduation: 2022-2023
Costs per year for iSTEPup: $314.48 [€259.35] (source: http://www.ciu.ac.ug/)
Why I need the iSTEPup Foundation 
It would not be possible for me to achieve my dream without the help of iSTEPup. It would have been impossible. I am coming from a family of 4 were I am the Second born. My mother and father separated when I was young. My mum is an illiterate woman. In Sierra Leone if someone has not gone to school, it's hard to find a job as the unemployment rate is very high. Because of God's mercy I was able to study.
Now the new transition in my life of becoming a Nurse have permit me to find a good job to be able to take care of  myself, My family, and my country as a whole. My elder brother is illiterate and poor leaving me to take care of my siblings and mother, and I don't have anyone to help me. So I am very sure that without this great help, I would have had no choice but to drop out of college by now.
The other fact is that, College, especially medical colleges in Sierra Leone is very expensive, so I wouldn't be able to pay my own fees. To facilitate
myself through College, I would need more than 5 years to save enough money to sustain myself through College.
Buddy 
Emily Bailey, Nurse from England working in Sierra Leone.
More info coming soon
News and updates:
Coming soon